About Company
ReynoBond Co. aluminium composite panel(ACP) is reputed brand in the world, our company ReynoBond Co. INDUSTRLAL CO.,LTD established in 1999 and is ISO 9001 & ISO14000 certficated and nominated as Council Member of China Architecture Decoration Association ReynoBond Co. aluminium composite panel(ACP) has been used in various projects in many countrys,such as England,Ireland,Netherland, Germany, Italy, Spain, Russia ,Ukraine, ,Canada, America ,Brazil, Argentina, UAE, Turkey, Iran, Thailand, South Korea etc. The product carries certifications from famous SGS organination for ASTM standard, EN test for fire-resistant and RoHS test for European standard due to the concept of take care the earth The company is expanding greatly in those years.currently the yearly capacity is 6,000,000 squ.meter, three production lines including 2000mm width production line will be installed to improve the quality and capacity to 9,000,000 squ.meter in next year Quality and Innovation is the aim that we are working for. ReynoBond Co. support your creativity design,and supply you perfect solution to navigate the direction of world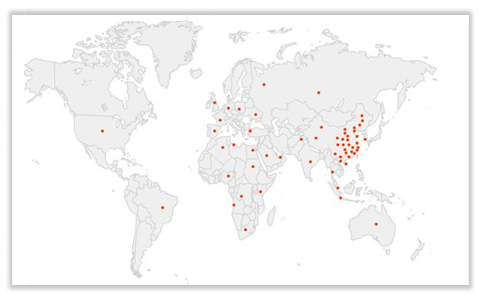 Our Mission
Where does customer loyalty come from? Think about those brands that you purchase from over and over, even when there are cheaper options out there. Do you usually fly on a particular airline? Do you buy your coffee from the same place every morning? Do you recommend a specific restaurant whenever out-of-towners ask for suggestions? Often, the reason we stay loyal to brands is because of their values. The best brands strive to combine physical, emotional, and logical elements into one exceptional customer -- and employee -- experience. When you successfully create a connection with your customers and employees, many of them might stay loyal for life -- and you'll have the chance to increase your overall profitability while building a solid foundation of brand promoters. But achieving that connection is no easy task. The companies that succeed are ones that stay true to their core values over the years and create a company that employees and customers are proud to associate with. ReynoBond Co. Construction Company, Inc. is committed to building long-term relationships based on integrity, performance and value, as well as client satisfaction. We continue to meet the changing needs of our clients with our quality services delivered by the most qualified people. Core Values Team Work We recognize our primary asset is our people. To be successful, ReynoBond Co. must be a rewarding place to work. We provide opportunity and encouragement to help our staff reach their potential. We work with our clients as a team. Mutual respect provides the foundation for our success. Integrity We remain true to our founding values of quality, honesty and hard work. ReynoBond Co. is a business based on trust. We are consistently associated with high standards of service, quality and personal attention to our client's expectations. Commitment We are proactive in finding solutions for our clients that best achieve their goals. Lasting relationships are the lifeblood of our business. We want the client to feel that our staff is even more committed to the effort than their own staff. That's what distinguishes us. We commit personal attention to our clients as individuals and genuinely care about them as friends.

---
Meet The Team
we want to thank everyone who has poured their creative energy into this company over the years, and especially recognize an amazing group of people who helped us finish strong.
Albert Dowson The Manager
---
ReynoBond Co.
Roxana Huamani Arce Sales Manager
---
ReynoBond Co.
Sara Patrick Moderator
---
ReynoBond Co.
Sheikh Rony Accounting Manager
---
ReynoBond Co.